Sunday, December 23rd, 2012 | Posted under Shopping
Okay, clearly it's 2 days before Christmas, but maybe some of you are STILL stuck about what to get your special traveler? I hope I can help. It's not too late!
1. Color makes travel better.
Maybe I'm just addicted to color this year, but don't bright colors make you happy, too? I love this passport holder from J. Crew. Will I look chic at the immigration check point? Perhaps.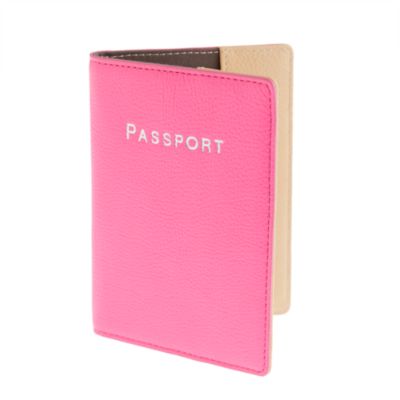 2. The Braggy Traveler?
Okay, I have my own travel map for the blog, but I'm still jazzed about possibly putting up a map of my own in an office or family room (if I had those rooms anywhere in my home).  For this map, all you do is scratch off the countries you've been to. Fun or braggy? Who knows?
3. Juiced up.
It's almost 2013, and there is no way to travel without some form of technology, even if it's an IPhone. At the same time, I think the hotels are trying to hide their outlets. Have they not gotten the memo about the needs of the modern traveler?  I love these extra long cords from ICordination. Problem solved?
J. Crew makes another appearance on this list with these teeny IPhone backup batteries. I would love to just keep this in my purse to whip out when I need a charge.
4. Counting down the hours.
Tell me that you don't love the New York Times' 36 Hours weekly series. Sometimes it's a bit off the mark. Am I really going to go to every fancy restaurant in town for one weekend? Probably not. Yet it does give a nice overview of what a place has to offer. Now you can read them non-stop. This book is limited to the U.S. and Canada, but the limitation isn't a bad thing. There's so much to see in these two countries.  Enjoy!
5. Comfy and soft…
This gift is beyond my budget, but maybe not for you. I would use this slipper and blanket set from Max Mara on my couch. No travel necessary. 🙂
So that's it. A little late, but you can always give an IOU for any late gifts. I feel like the holiday season lasts until New Year's Day anyway.
Merry Christmas to all!